Nut & Seed Granola
This Nut & Seed Granola is rich in protein, dietary fiber, vitamin E and phytonutrients and low in sugar. Top with berries and serve with your favorite milk or yogurt.
Nut & Seed Granola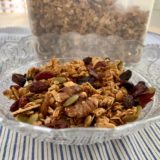 This protein-rich Nut & Seed Granola cooks up quickly and deliciously.
3 cups rolled oats
1 cup nuts of choice ((I used walnuts and sliced almonds))
0.5 cup seeds of choice ((I used pumpkin and sunflower seeds))
1 Tbsp. chia seeds
1 Tbsp. hemp seeds
2 tsp. ground cinnamon
Dash of salt
0.25 cup light olive oil or grapeseed oil
0.25 cup maple syrup
1 tsp. vanilla extract
Optional add-ins: dried fruit, unsweetened shredded coconut, chocolate chips
Preheat oven to 350 F degrees. In a medium bowl, combine dry ingredients (oats through salt). Add in oil; mix until well combined. Next add in maple syrup and vanilla; mix until oil, syrup and vanilla well-incorporated. Pour mixture onto parchment-lined baking sheet.

Bake for 20-25 minutes. Let cool completely, then break apart. Add optional add-in ingredients, if desired. Keeps in airtight container for up to 1 week.