Overnight Oats
Overnight Oats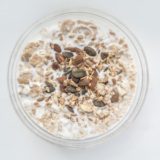 Make these overnight oats for a delicious and whole grain on-the-go breakfast!
1/2 cup rolled oats
1/2 cup milk (dairy, nut or other)
1/4 cup plain Greek yogurt
1/2 tsp. vanilla extract
1/2 tsp. chia seeds
1/4 tsp. ground cinnamon
Combine in a mason jar or container; stir and seal. Refrigerate overnight, heat in microwave and top with your favorite nuts, seeds and/or berries.
Use this basic recipe for Overnight Oats for a healthy, whole grains on-the-go breakfast. Add nuts and seeds to boost the protein content, and throw in a handful of berries–fresh or frozen–for a boost of antioxidants, potassium and vitamin C.