Quick Vegetable Soup
Making your own vegetable soup doesn't get much simpler than this Quick Vegetable Soup recipe.
Thanks to frozen vegetables, garlic and basil and canned beans and tomatoes, this soup comes together in minutes for a nourishing and quick meal. Loaded with antioxidants, potassium, dietary fiber and vitamins C and K, this soup is a delicious way to get in a couple of veggie servings.
Vegetarian | Gluten-free | Dairy-free (if you leave out the optional Parmesan cheese)
Quick Vegetable Soup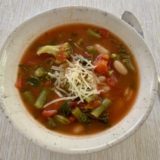 Quick and hearty vegetable soup made with frozen veggies and canned beans.
28 oz. can diced or crushed tomatoes, undrained
3 cups vegetable or chicken broth
12 oz. frozen mixed vegetables
2 cups frozen green beans
1.5 cups frozen or fresh chopped kale or spinach
2 each frozen garlic cubes or 2 cloves fresh minced garlic
2 each frozen basil cubes or 1 tsp. dried basil
15.5 oz. can white beans, drained and rinsed
1 tsp. dried thyme
1 tsp. kosher or sea salt
1 tsp. ground black pepper
1 bay leaf
Parmesan cheese (optional)
In a medium pot, add tomatoes (undrained) and broth; bring to boil. Add remaining ingredients. Bring back to a boil, cover with lid and turn heat to medium-low. Simmer for 10-15 minutes. Garnish with grated or shredded Parmesan cheese, if desired.