Easy Air Fryer Latkes
If you love latkes but loathe the mess (and fried smell!) that goes with making them, this Air Fryer recipe is for you! To make potato pancakes simple and do-able for a weeknight side dish, I used prepackaged shredded potato (either refrigerated or thawed frozen works great) and onion softened in the microwave. Plus, "frying" latkes in the Air Fryer versus on the stove slashes calories and saturated fat (and cooking time!). The light drizzle of olive oil on top of the latkes before cooking just increases the crispiness factor.
Easy Air Fryer Latkes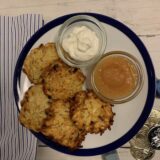 Easy Air Fryer Potato Pancakes
0.25 each sweet onion, chopped
3 cups refrigerated or thawed frozen shredded potatoes
2 each eggs
0.25 cup matzo meal
0.75 tsp. kosher salt
0.25 tsp. ground black pepper
Olive oil, for drizzling
Applesauce (optional)
Sour cream or nonfat Greek yogurt (optional)
Microwave onion in microwave-safe bowl until soft, about 1-2 minutes.

In a medium bowl, mix onions with shredded potatoes, eggs, matzo meal, salt and pepper until combined well; form into 12 pancakes. Place one layer of pancakes of lightly oiled or sprayed Air Fryer basket. (Do not overlap pancakes.)

Drizzle tops of latkes with a little olive oil. Cook at 400 F degrees for 5 minutes; flip and cook for another 5 minutes, or until crispy. Repeat with remaining latkes. Serve warm with applesauce and sour cream or plain Greek yogurt.