Quinoa-Vegetable Soup
Thanks to the vegetables, quinoa and beans in my Quinoa-Vegetable Soup, it is rich in vitamins A, B, C and K plus dietary fiber, antioxidants and protein. These nutrients are good for healthy skin and immune system, lowered blood pressure and blood cholesterol levels, as well as a healthy gut and digestive system. It's a cinch to whip up on a busy weeknight or on the weekend for a few days' worth of warm lunches.
Quinoa-Vegetable Soup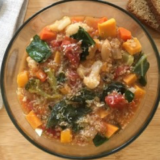 This soup is easy-to-make, nutritious and delicious!
2 Tbsp. olive oil
1 each medium onion, chopped
3 each garlic cloves, minced
2 stalks celery, chopped
2 each carrots, diced
28 oz can fire-roasted tomatoes, diced
1 tsp dried thyme
2 cups favorite chopped frozen or fresh vegetables
0.75 cup quinoa, rinsed and drained
4 cups vegetable or chicken broth
2 cups water
2 bay leaves
15 oz canned white beans, rinsed and drained
1 cup favorite leafy dark greens, tough stems removed
Salt and pepper, to taste
Freshly grated Parmesan cheese, if desired
Heat large pot over medium heat.

Add onion, garlic, carrots and celery; cook and stir until veggies have softened, about 6-8 minutes. Add tomatoes and thyme; cook and stir for another 2-3 minutes. Add the remaining chopped vegetables, quinoa, broth, water and bay leaves. Season to taste.

Bring to a boil; then reduce heat and simmer for about 20-25 minutes. Add beans and greens to pot; simmer for another 5-10 minutes, until greens have softened. Remove from heat and remove bay leaves. Top with freshly grated Parmesan, if desired.