Strawberry Mojito
This adult beverage was a refreshing reward after a day of building a new garden and transplanting my strawberry plants. You can always turn this into a sparkling strawberry-mint mocktail by omitting the rum and upping the lime juice to 6 oz and the club soda or sparkling water to 8 oz total (for 2 servings). Cheers!
Strawberry Mojito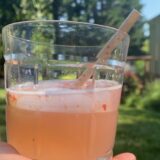 This refreshing adult bev features fresh strawberries and mint
6 medium strawberries (hulled)
6 fresh mint leaves
3.5 tsp sugar
4 oz light rum
2 oz freshly squeezed lime juice
6 oz chilled club soda or sparkling water
Place 5 strawberries, mint leaves and sugar in a cocktail shaker. Mash well. Add rum, lime juice and ice cubes to shaker; close tightly and shake until cold. Strain into two ice-filled glasses. Top with club soda or sparkling water. Slice remaining strawberry and add to glasses.