Chocolate-Quinoa Granola Bars
Chocolate-Quinoa Granola Bars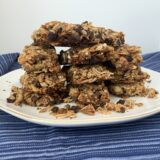 These granola bars are easy to make and nourishing.
3 cups old-fashioned rolled oats
1 cup quinoa flakes ((or toasted quinoa or steel cut oats))
1/4 cup whole wheat flour ((use almond or coconut flour to make gluten-free))
1/4 cup roasted pumpkin seeds
1/4 cup roasted almonds, chopped or sliced ((double up on seeds to make nut-free))
1 Tbsp. chia seeds
1/2 tsp. kosher salt
1 tsp. ground cinnamon
1/4-1/3 cup dark chocolate chips
1/3 cup canola or light olive oil
1/3 cup honey
1 tsp. vanilla extract
1 egg white
Shredded coconut or dried fruit, optional
Preheat oven to 325 degrees F. Line baking sheet with parchment paper.

In a medium bowl, mix oats and next 9 ingredients (through chocolate chips); combine until well-mixed. Add oil, honey and vanilla; combine until mix is well-coated.

In a measuring glass or small bowl, beat egg white until peaks form; fold into mixture.

Spread on baking sheet. Using a small piece of parchment paper, press with hands or spatula on mixture to make top even and help mixture hold together.

Bake for 20-25 minutes, or until lightly golden. Let cool for 10 minutes. Cut into bars. Makes approximately 25-30 bars. Store in an airight container for up to 1 week.