Sauteed Veggie Salad with Kefir Ranch Dressing
This salad is easy to whip up, high in protein and rich in flavor. Thanks to the veggie burger (I love the kale burgers by Dr. Praeger's) and kefir, this salad boasts a healthy dose of vegetarian protein. Plus, kefir is loaded with gut-healthy probiotics. Taking advantage of the hot skillet by throwing some veggies in with the burgers lends a rich, intense flavor to the salad. Even non-salad lovers will enjoy this protein-rich salad.
Sauteed Veggie Salad with Kefir Ranch Dressing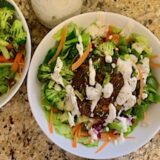 This salad provides a delicious crunch with a probiotic-rich dressing.
2 each plant-based burger (I used Dr. Praeger's kale burger)
1 cup broccoli, cut floret into smaller pieces
1 each green bell pepper, diced
1 teaspoon olive oil
1 head butter, romaine or other leafy green lettuce, torn
10 each cherry tomatoes, halved
1/2 medium cucumber, diced
1/4 each red onion, finely diced
1 each carrot, shaved into thin strips using a vegetable peeler
1/3 cup nonfat plain kefir
1/4 cup olive oil mayonnaise
1 clove garlic, minced (or thaw a frozen garlic cube)
1 teaspoon favorite dried herbs (parsley, dill, oregano or a blend)
1/4 teaspoon garlic powder
1/4 teaspoon onion salt
Dash ground pepper
Add olive oil to large skillet pan and heat over medium-high heat. Place veggie burgers, cut broccoli and diced green peppers in pan; cook until heated through, about 7-10 minutes (flipping burgers halfway). Set aside while making salad and dressing.

Distribute remaining vegetables (lettuce through carrots) evenly between two bowls.

Make dressing by combining remaining ingredients (kefir through black pepper) to a Mason jar or cup with lid. Shake until well-combined.

Top each salad bowl with a burger and sauteed veggies. Drizzle with kefir dressing and enjoy.