Mediterranean Hummus Pizza
This Mediterranean Hummus Pizza combines delicious Mediterranean flavors and convenience to make a nutritious and easy-to-make pizza lunch. You can easily halve the ingredients to make one pizza. Bon appetit!
Mediterranean Hummus Pizza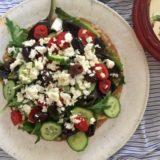 This easy-to-make pizza combines the flavors of the Mediterranean for a simple and satisfying lunch.
2 each whole wheat tortillas, lightly brushed with olive oil
4-5 Tbsp. Sabra sun-dried tomato hummus or your favorite hummus
2 cups mixed greens
1 small cucumber, thinly sliced
10 cherry tomatoes, halved or thinly sliced
3 Tbsp. kalamata olives, halved
2-3 oz. feta cheese, crumbled
1/2 tsp. olive oil
1/2 tsp. Greek oregano or Italian seasoning
Toast tortillas in toasted oven until crunchy.

Spread hummus evenly on tortillas. Top hummus with a layer of mixed greens, then top with cucumber and tomato slices, olives and feta cheese. Drizzle olive oil on top, then sprinkle with herbs.

Toast pizzas on top of foil-lined sheet until warm. Makes 2 servings.